Vive Pro 2 is a PC VR headset for both consumers and businesses. It uses the same design as the original but switches out the OLED panels for much higher resolution 120Hz LCDs, and uses HTC's new wider field of view lenses.

2.5K Per-Eye 120 Hz LCD.
Vive Pro used dual PenTile OLED panels with a resolution of 1440×1600 each – the same used in the first Oculus Quest , Vive Pro 2 replaces them with dual 2448×2448 LCD panels – more than 2.6x as many pixels. That's the highest resolution available in the consumer VR space, going beyond even HP's Reverb G2.
Vive Pro 2 uses DisplayPort 1.2 with Display Stream Compression (DSC), so any graphics card that supported the original should still work. , Vive Pro's panels ran at 90 Hz refresh rate, but Vive Pro 2 increases this to 120 Hz. ,The switch from OLED to LCD means Vive Pro 2 can no longer display the true color black, since there's a backlight behind the display instead of pixels controlling their own light
Wider Field Of View Lenses
Vive Pro 2 & Vive Focus 3 introduce HTC 's "new bespoke dual stacked-lens design".
HTC says the new lenses provide a clean 120 degree field of view, without introducing new distortion or blur at the edges. For comparison, it marketed the original Vive Pro's field of view as 110 degrees.
There are multiple ways to measure field of view, and it changes depending on how close your eyes are to the lenses. We'll bring you our impressions of the new lenses when we get hands-on , Like with all HTC headsets so far, Vive Pro 2 has lens separation adjustment.
Same Steam VR Tracking
HTC's Vive Cosmos line switched to "inside-out" positional tracking, but Vive Pro 2 sticks with SteamVR Tracking 2.0 , That means existing base stations and controllers should continue to work, and tracking should be extremely high quality in most environments , Whether you are developing content or you are going to distribute your content through Viveport store, we have the SDKs for you.
Picture Quality
The brightness is automatically adjusted via brightness sensor and PWM control. We unfortunately did not find an option to adjust it manually for our measurements, but the 110 cd/m² we recorded are sufficient in the dark headset. The black value of 0.5 cd/m² is pretty high in our measurements (with a distance of a few cm) and only results in a contrast ratio of 211:1. The AMOLED predecessor obviously had a big advantage here.
The two built-in speakers are removable and HTC advertises them as high quality. Compared to good notebook speakers, we note a much stronger sound, but it is not very linear. There is a noticeable peak at 5000-6000 Hz, for example. The maximum volume is still very good and you can comfortably adjust the volume through the buttons on the left ear piece. Our personal impression is that the speakers are usable, but not excellent. It is also possible to connect other headphones to USB-C or Bluetooth.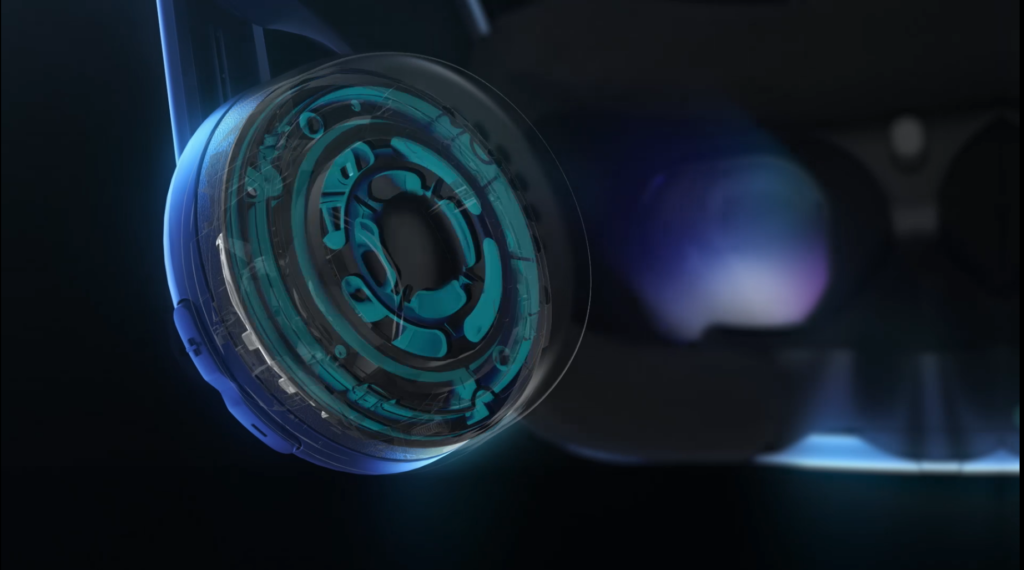 Verdict
The HTC Vive Pro 2 is a great headset, but it also has its drawbacks. The distinction is certainly the high resolution of the two panels, which produces a great impression of the image in the sweet spot. The wide field of view is very convenient, but the nice spot can be quite small depending on the user. This means that it will quickly become blurry as your eyes move toward the edges. The color representation is decent, but the contrast isn't too high and can't keep up with the AMOLED predecessor. The biggest drawback is the use of PWM for (automatic) brightness control. We measured the flicker at 120Hz, which can cause problems for sensitive users in longer sessions.